Songwriters and other creators may recoup lost money with Senate's passage of CASE Act
Washington, D.C. – U.S. songwriters and other indie creators were given an early gift in December when the U.S. Senate joined the House of Representatives in passing the Copyright Alternative in Small Claims Enforcement (CASE) Act. The long-awaited new law allows songwriters and other creators the ability to sue, in a copyright small claims court, those who use their work without payment or permission. The Songwriters Guild of America began working toward this bill more than a decade ago and cheers its passage at long last.

The House of Representatives previously and overwhelmingly approved the bipartisan legislation (H.R. 2426) by a vote of 410-6. With the Senate's approval and presidential ratification, this marks the first time in U.S. history that a small claims court for copyright creators and owners has been established.

"Around 2007 or earlier, the SGA took the lead and began energetically pointing out to members of Congress the enormous costs of federal copyright litigation – which are often well over a quarter million dollars. These costs have virtually destroyed the ability of music creators to enforce their rights against infringers. This 'right without a remedy' problem has finally been addressed," said Rick Carnes, hit songwriter and president of the SGA.

The SGA and its allies -- including Music Creators North America, the Society of Composers & Lyricists, the Authors Guild and the U.S. Copyright Alliance – worked long and hard in support of the Act's legislative victory.

Carnes added, "We're extremely proud of our role in helping to forge this legislative solution. With the assistance of the U.S. Copyright Office, which will oversee implementation and operation of the new system, the SGA will continue to monitor and report new developments."

The SGA would like to thank a long list of Congressional supporters for their stalwart, bipartisan support of the Act and of the creative community as a whole. These include: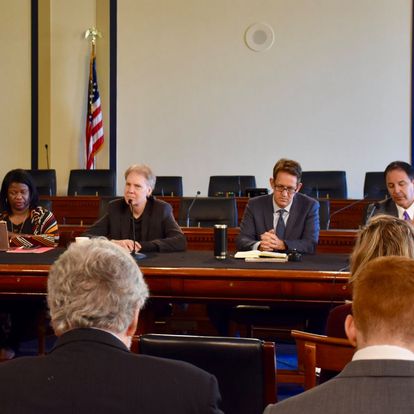 SGA President Rick Carnes addresses Congress about the importance of the CASE Act in helping indie creators recoup losses from IP infringement.
---
"Our appreciation extends to all co-sponsors of this critical legislation. These are legislators who care deeply about the protection of creators and understand the contribution we make to our culture and our country's wealth. They have our sincerest gratitude," concluded Carnes.

The SGA is optimistic that this new law will decrease the necessity for future copyright infringement actions. While accused infringers can opt out of the small claims process, those who do will know they are being monitored and that lawsuits in federal court can follow should they choose to opt out. The result will benefit everyone, including consumers, and drive commerce and culture forward.